Nothing is better than collaborating with mates. We have teamed up with our good friends Pirate Life, BESTMALZ® and Yakima Chief Hops to create our 'Best Pilsner'. Crisp, clean and full flavoured. Featuring high quality hops and malt.
The Grain bill, courtesy of BESTMALZ® consists of Pilsner Malt, Acidulated Malt and Best Caramel® Pilsner which help bring a bready, slightly sweet and malty quality to the beer, whilst Yakima Chief Hops sensational Loral® and Athanum® varieties bring a touch of bitterness along with notes of citrus and cedar.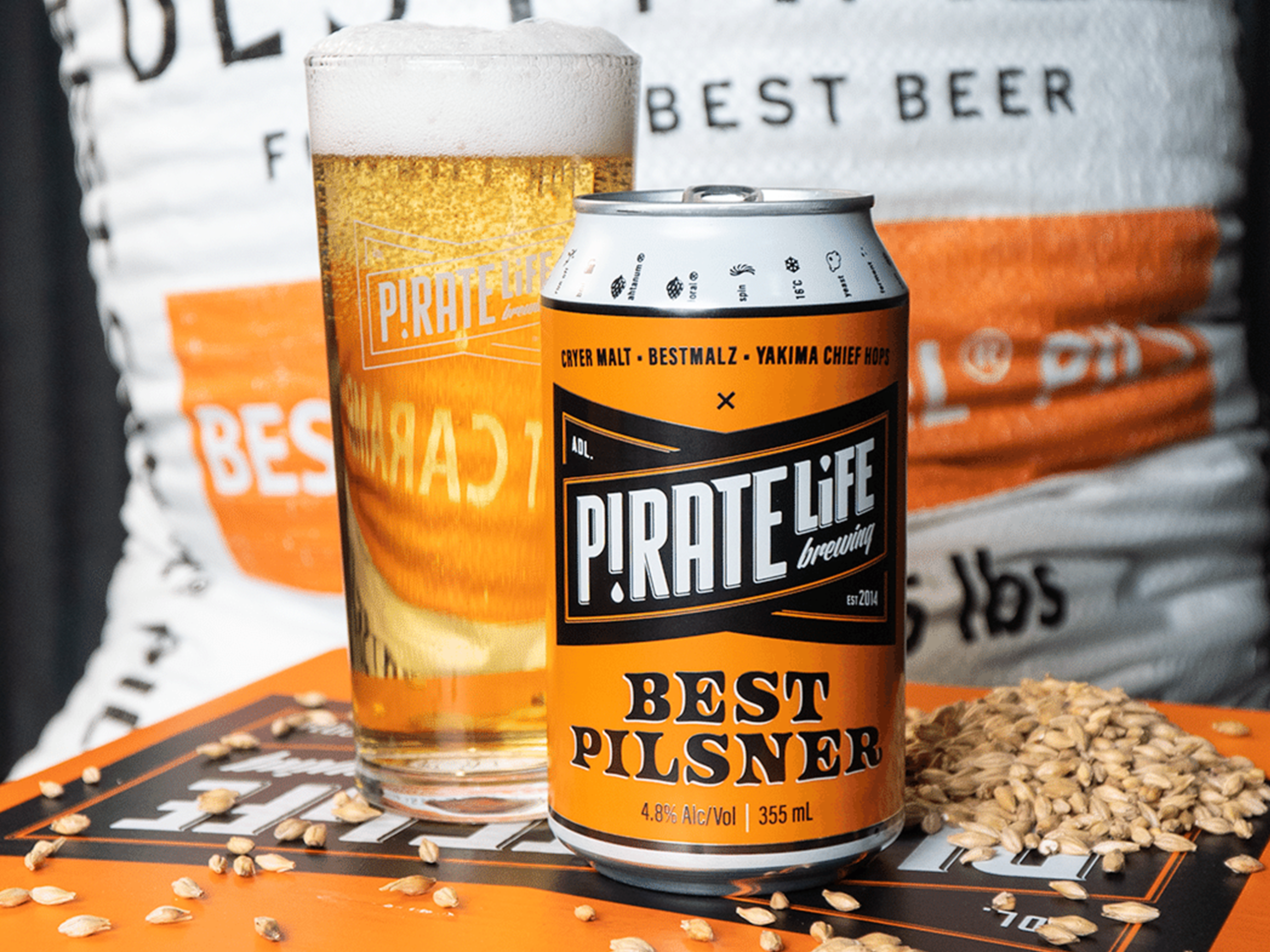 The production of Best Pilsner is the culmination of many years of partnership between Cryer Malt and Pirate Life.
David Cryer, General Manager Cryer Malt: "After 30 years in the business, it's wonderful to be able to do something new with old friends like this."
"It took me back to trips to the World Beer Cup with these guys and how much fun we had. I'm now counting down the sleeps until this product wings its way from the brewery in Port Adelaide to my garage office bunker so I can taste fruits of our creation."
MC, Pirate Life Co-Founder: "David and I have been mates since we placed our first order with Cryer Malt back in 2014, so it's great to finally team up for a collaborative beer. So many Pirate Life recipes were built using ingredients sourced by them, and this Best Pilsner tilts the cap to two of their finest suppliers in Bestmalz and Yakima Chief Hops.
Tim Kenny, Pirate Life Brewer: "The goal with this pilsner was to showcase the malt, first and foremost, and we constructed the water profile to do just that. I love the well-rounded biscuity flavour we got, there's even a hint of home-made bread there as well. BESTMALZ® is fantastic gear. The hops we used, Ahtanum® and Loral®, are effectively new-world nobles. They're beautiful strains, showing grassiness and notes of wild berry…it's like you're walking through forest in regional Germany."
"We really wanted to do David Cryer, his crew, and both suppliers justice. We knew that if we produced something to the same quality as the ingredients we were given, it'd come together."
"I'm really happy with how it's turned out. It's clean, crisp and well defined in its flavours and aromas. This is the kind of beer I love to drink, love to make, and I hope the punters get around it too."
Best Pilsner is available now from Dan Murphy's